Kingston IronKey Enterprise S1000 Flash Drive

Centrally Manageable with Blazing Speed and Enhanced Encryption in a Ruggedized Device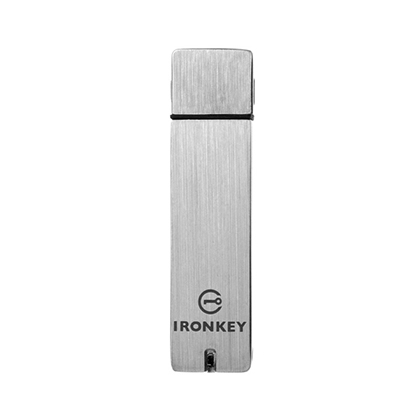 Kingston IronKey Enterprise Series
IronKey Enterprise S1000 Series Flash Storage Drives
IronKey Enterprise Management Service or Device management license required per device.
More pricing below, click here!
Overview:
The IronKey Enterprise S1000 has all the advantages of the IronKey Basic S1000 in a drive that you can centrally manage via the cloud-based or on-premises IronKey Enterprise Management Service or Server1.
Benefits
Meet the strictest data security around the world for business, government, military, healthcare, financial services, education and more
Keep mobile and contingent workers productive with read speeds of up to 400MB/sec – 2X the speed other USB 3.0 drives
Securely carry the biggest data sets and files with up to 128GB of storage space
Confidently carry your sensitive data with FIPS 140-2 Level 3 certified drives protected by enhanced XTS-AES 256-bit encryption
Centrally manage data access and regulate drive use, and even remotely disable or destroy lost or stolen drives2
Easily upgrade IronKey Basic S1000 drives to Enterprise S1000 drives.
Sleek, ruggedized portable design is virtually indestructible.
Protect your investment with IronKey's lifetime warranty

1. On-premises management available early Q2 2015
2. IronKey Enterprise S1000 only
Features & Benefits: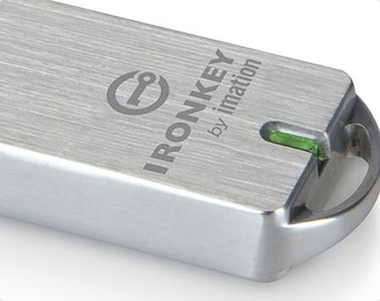 Meet data security requirements the world over with IronKey's fastest, most secure storage drives ever!
Don't Compromise Performance for Security
When it comes to encrypted USB storage devices, too many products force users to sacrifice performance for top-level security. But IronKey Enterprise S1000 USB 3.0 flash drives deliver everything enterprises need with none of the compromises common to mobile storage. IronKey's fastest-ever flash drive delivers unparalleled read/write performance, enhanced hardware-based encryption in a FIPS certified drive, room for the largest data sets, and cloud-based or on-premises centralized management1.
Faster than Ever
With IronKey Enterprise S1000 USB 3.0 drives, you can stop waiting for large data sets to transfer. Blazing read speeds of up to 400MB/sec give you 2x the performance of competing USB 3.0 drives and up to 10x faster than USB 2.0 drives (utilizing a PC, laptop or tablet with a USB 3.0 port).
More Secure than Ever
Meet the strictest security standards, no matter where your mobile workforce goes. IronKey Enterprise S1000 drives are FIPS 140-2 Level 3 certified, and protect your valuable content using hardware-based XTS-AES 256-bit encryption, which provides stronger protection than CBC and other block cipher modes.
Rely on the Brand Known for Serious Security
IronKey Enterprise S1000 flash drives automatically detect and respond to physical tampering. IronKey's sleek, anodized aluminum enclosure is built to meet the most stringent standards for military-grade strength and durability.
More Spacious Than Ever
Safely store up to 128GB of files and documents - twice the capacity of other IronKey USB 2.0 flash drives.
Protect More Than Data
Self-defending IronKey Enterprise S1000 uses hardware-based protection to keep encryption key management on the device and away from potential exposures. In addition, IronKey drives automatically protect against brute force password attacks and are immune to BadUSB.
Deploy a Solution Users Will Love
Self-initializing IronKey Enterprise S1000 drives make it easy for users and administrators alike to lock down data no matter where it goes. No special drivers or software are needed for installation.
Backed for a Lifetime
IronKey Enterprise S1000 USB 3.0 drives are backed by a lifetime warranty - the industry's longest.
Choose from Two IronKey S1000 Versions
Do some of your users need secure, high-performance storage, but without the need for central device and policy management? You can still get all the superior performance and security of IronKey Enterprise S1000 with IronKey Basic S1000 USB 3.0 drives.
Available USB 2.0 Solutions
Enterprises looking for secure storage solutions for USB 2.0 can choose from IronKey Enterprise S250 and D250 flash drives. Like the IronKey Enterprise S1000, the secure storage devices feature military-grade hardware encryption in a ruggedized enclosure and centralized management capabilities.
Ironkey Enterprise Management Server and Service:
Centrally manage drive access and usage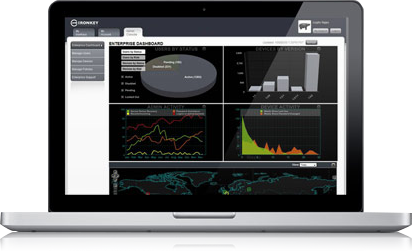 Centrally administer access and usage policies with the cloud-based or on-premises* IronKey Enterprise Management Service or Server.
Remotely disable or terminate lost or stolen USB drives using the IronKey Enterprise Management Service, which provides powerful options to prevent access to rogue devices.
Repurpose drives that are no longer in use.
Enforce device-specific policies, including password strength and retry limits, and where devices are allowed to be used. Users can also securely recover lost passwords.
Easily manage thousands of IronKey Enterprise devices. Use an intuitive, secure online interface to apply security policies to their organization's IronKey Enterprise encrypted flash drives - no need for lengthy and complex tasks such as customizing code or managing unique network and application environments.
Enable users to easily self-provision their devices, or you can initialize the devices and deploy them to end users.

* On-premises centralized management available in the upcoming months
Download the IronKey Enterprise Management Service Data Sheet (PDF).
Download the IronKey Enterprise Management Server Data Sheet (PDF).
Technical Specifications:
IronKey Enterprise S1000 Flash Drive Specifications
Capacities
4GB, 8GB, 16GB, 32GB, 64GB, 128GB
Performance
Max Read: 400 MB/second
Max Write: 300 MB/second
Memory
Dual-Channel MLC Flash
Hardware
USB 3.0 SuperSpeed
Military-grade, ruggedized portable design
Dust-resistant
Shock-resistant
Waterproof
MIL-STD-810F
Security Features
FIPS 140-2 Level 3 certified
256-bit AES-XTS hardware encryption
Automatic data protection upon device removal
Temperature
Operating: 0C, +70C
Storage: -40C, +85C
Operating Shock
16G rms
Dimensions
82.3mm x 21.1mm x 9.1mm
Weight
1.12 oz (32 grams)
Management Tools
IronKey Enterprise Management Cloud-Based
Cloud-Based Service or On-Premises Server (on-premises available in the upcoming months)
Platforms
Microsoft Windows XP, SP2+, Vista and
Windows 7 or higher
Macintosh OS X10.5+ and Linux 2.6+
Languages
English, German, French, Spanish, Japanese, Korean, Simplified Chinese, Traditional Chinese
Compliance
Section 508, TAA, KCC, FCC, ROHS
Warranty
Lifetime Warranty
License
The IronKey Enterprise flash drive requires an EM Service License for activation.


Pricing Notes:
Pricing and product availability subject to change without notice.